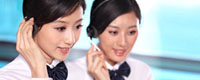 Tel: +86-534-5737702
Fax: +86-534-5340516
E-mail: [email protected]
Add: No.80 Changxing road, Economic Development Zone, Dezhou, Shandong, China
Skype: betterdrilling2008



Product name : F & G style Float Valve

Model No. : F, FA, G, GA

Quality Standard : #API & ISO

Origin : CN

Package : Plywood case / Steel Pallet

HS code : 8481804090
Details:

BT-DPFV F/FA G/GA series Float Valve
Forum Baker SPD F & G style Float Valve with alloy steel integral forged


BETTER provides Float Valves, Repair Kits, Baffle Plates and Puller Assembly Tools, including H2S and high temperature service condition. These Drill Pipe Float Valve provides added blowout protection at the bottom of the drillstring, prevent flowback when joints are added, and keep cuttings out of drill pipes to prevent bit plugging while making connections.

Feature

All BETTER Float Valves are manufactured with alloy steel integral

All Flappers are investment cast and then case hardened for wear resistance.

Elastomers available Buna-N/NBR (Standard), Viton/FKM (Hi-Temp), HNBR (H2S) for optional.

All BETTER Float Valves, baffle plates, and valve pullers are interchangeable with the Baker® Style Model F/FA, and Baker® Style Model G/GA Float Valves.

Heat Treatment: Carburize at 1500-1550°F to .005/.010 depth with hardness 58 HRC Min.

Surface treatment: Xylan fluoropolymer coating with depth 0.25-0.30mm or Nicked Plated.

Standard API NRV


Color Blue or Black, or customized




Model F Plunger Type Float Valve
Model F DPFV provides positive and instantaneous shut off against high and low pressure, assuring continuous control of fluid during drilling, including H2S application. For normal drilling operations, the durable Model F is the most economical choice and is available in all sizes.
BETTER Model F Drill Pipe Float Valve is made of alloy steel body and dimensionally identical to the standard Baker F Float Valve, interchangeable trim, recommended for use with downhole mud motors.

Model FA Drill Pipe Float Valve
Model FA DPFV offers all the standard feature of Model F with the added feature of a port which allow a fluid path through the valve's center. It is recommend to use for monitoring the bit head when differential pressure required. Available in all sizes.

Model G Flapper Type Full Open Valve
It is good for use with highly abrasive fluids, with flapper design to open quickly and fully to provide a completely unrestricted bore through the valve. When circulation stops, the flapper closes instantly to prevent cuttings from entering the drill string and plugging the bit; and open when the first joint is raised out of the hole assuring the first joints drain and are not pulled wet.
All flappers for Model G are made of low alloy steel 8620 with QPQ treatment to resist wear and erosion. The flapper valve opens fully during circulation providing an unrestricted flow for drilling fluid.

Model GA Differential Pressure Monitoring Valve
It is identical to Model G except of a hardened ¼" diameter tungsten carbide orifice bean insert in the flapper to provide automatic partial filling of the drill pipe during running in, which is used to monitor the bit head when differential pressure required.

Dimensional Information for all styles of Model F and G Drill Pipe Float Valve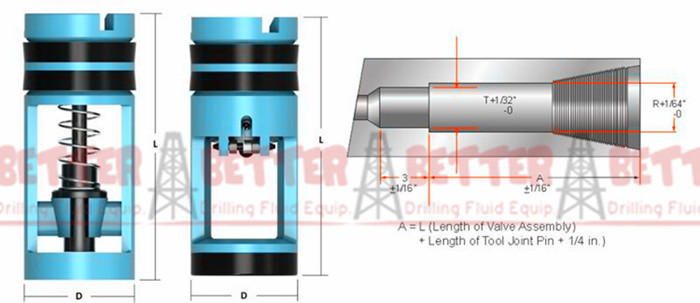 Diameter of Recess for Valve

Diameter of Recess for Baffle Plate
Model F and G Drill Pipe Float Valve are identical in outside dimension and use the same float sub or bored-out drill collar. Float subs are made in lengths from 14"to30" depending on size and type, and designed for two recuts, two on either end or one on each end.

DPFV Metal Repair Kit and Rubber Repair Kit could be provided upon request.